HEAR WHY ORGANIZATIONS BOOK NANCY...


Nancy had our audience laughing, crying, applauding and truly feeling inspired by the end of her relevant, inspirational and motivational 'Art of Mastery' keynote. I cannot say enough about how pleased I was with Nancy; she was a truly class act and a great way to kick off our 35th Annual
Event.
—Brian Calkins, Program Director, The Florida Association of Pediatric Tumor Programs, Inc.
I took a leap of faith in contracting with Nancy Noonan as a keynote speaker because I had no prior experience in hearing her speak. That was one leap I will never regret. Nancy interacted with our membership prior to her presentation and was able to get a good feel for what we needed, not using a canned message. Our membership has recently been faced with many challenges; they found Nancy to be very uplifting, energizing, articulate and real; and her content thought provoking, motivating and very useful. I strongly recommend Nancy––you won't be disappointed.
—Lori McKee, President, Ohio Bursars Association
Nursing is both an art and a science. You inspired us to use the art of nursing! Thank you for reminding us to take care of ourselves and the importance of being creative in all aspects of our lives. Your keynote was refreshing, engaging and inspiring and you are professional, energetic and knowledgeable. As one nurse said, 'The presentation was its own work of art!'
—Jane Nelson, MS, CAE, Executive Director, Oklahoma Nurses Association
Click here to download the full letter.
Nancy's program was a great Intro to Business Networking Skills: great stories and connections, perfect pace and she kept all participants involved. We would definitely love more!
—Bruce York, Division Chief, Office of Defects Investigation, DOT
Nancy re-ignites her audience! Her presentation was motivating, entertaining and thought provoking. Her facilitation skills are very evident with a good blend of humor, responsiveness and subtle guidance to capture the interest of the audience and focus the discussions. Nancy's experience and expertise make her a superb speaker.


—Rolene Cogburn, Vice President, Event Meeting Coordinator, International Association of Administrative Professionals
Mountain View
Nancy engaged our audience from the very beginning by offering a connection to their professions, while using humor and passion to keep them interested. She was enlightening, energetic and incredibly relevant! Extremely well received, Nancy spoke to our group about improving their day-to-day operations through a lens that most had not even considered using. I highly recommend her.


—Kelley Christman, President, Rocky Mountain Association of Collegiate Registrars and Admissions Officers
Your keynote on 'Nursing Mastery in a Changing World' was professional, motivating, and fitting with our changing environment here at Carle. As our attendees said, 'It was entertaining, the art history angle was very REFRESHING, and Nancy was humorous, engaging and relevant to us at Carle!'


—Anna Keck, Executive Director, Research Institute, Carle Foundation Hospital
You started our conference on a warm, energetic and positive note! Our college & universities personnel have a difficult job and so esp. loved your inspiration and humor throughout, and that you had them thinking outside of their normal realm. We THANK YOU!!!


—Suzanne Traaseth, Conference Coordinator, Minnesota Collection Network
This 'Art of Masterful Networking' program, and the speaker were both excellent! The material was very organized and Nancy was refreshingly clear and direct. This will greatly help me improve my business by networking and developing relationships in a more mindful way.


—Russ Porter, Insurance Agency Owner
Nancy is a dynamic speaker with a unique angle who can really get a message across to an audience; as our keynoter, she certainly met our expectations! Some of the great reviews from our audience: 'Nancy is a very talented and gifted speaker who held the audience in the palm of her hand!' and 'She spoke to our hearts and connected in a way that we felt she was a part of us' and "Nancy is the best speaker I have ever heard!'


—Diana Price, Education Manager, NALS: The Association for Legal Professionals
Very happy to kick off our Networking workshops with Nancy Noonan. So refreshing to hear an engaging presenter with great content and style.


—Chief Marketing Officer, Baltimore Law Firm
Nancy Noonan returned for the 2nd time to keynote for our annual conference with 'The Art of Masterful Networking.' Once again, she did not disappoint. There were many positive and enthusiastic responses from our attendees, including 'This presentation was amazing!' and 'Wonderful ideas on how to better relate to patients and parents' and 'Very useful and timely.' I recommend Nancy to any organization as a relevant, inspirational and motivational Keynote speaker.
—Brian J. Calkins, Program Director, The Florida Association of Pediatric Tumor Programs, Inc.
Nancy Noonan presented at our annual meeting and she was AWESOME! With her strategies, we were able to visualize new ways of managing our current laboratory operations. Using her methods, we will be able to motivate our staff to work and learn at their highest levels!


—Carla Orner, President-Elect, Kansas City Clinical Laboratory Management Association
Click here to download the full letter.
Your information on creativity will definitely help me generate more clients!


—Rod Clark, Financial Services Representative, First Investors Corporation
Your keynote kick-started our conference with a much needed boost for our members! You were the attendees' favorite presenter, hands down. You energized our group to self-motivate and gave them tools to cope with potential feelings of being overwhelmed. We enjoyed your excellent presentation skills, enthusiasm, energy and that you were down to earth.


—Trish Torrez, President, Association of Administrators of Student Loans and Accounts Receivable, CO
Click here to download the full letter.
You were outstanding! Our very impressed attendees said your staff workshops were both 'fun' and had 'great content!' You have a special talent for spreading information that people actually hear and retain. It was a boost to our staff development committee to bring in such a quality speaker!


—Lori Fuentes, Chair, Staff Development, California State University
Click here to download the full letter.
This was such a new perspective! Nancy was warm, engaging, captivating and energetic! I wish it could have lasted even longer!


—Laurie Adamson, Director of Women's Programs, Olympic College
We gave you a ten out of ten! You were extremely professional and really spoke from the heart!


—Re/Max
Nancy got our convention off to a great start! Her upbeat and humorous approach really brought our members into her unique presentation; she was thought-provoking, fun and energetic and kept the full attention of our group. It was both a useful and inspirational session!


—Eric Morgan, Executive Director, Land Title Association
Click here to download the full letter.
Thanks for speaking to our CEO Forum with your program, 'Stretch Your Creativity Canvas: Creativity for CEOs and Their Organizations' and for stimulating a very interesting discussion. The CEOs were very enthusiastic about your presentation and ideas and enjoyed your positive, exuberant energy.
—Gali Beh, President, Beh Management Consulting, CEO Forum
Click here to download the full letter.
Your evals were brilliant! You made them think, you made them laugh. And you made me look great! You're an association executive's dream speaker to work with!


—Joan Tezak, Executive Director, American Society of Association Executives/CO
Click here to download the full letter.
Nancy is a delightful speaker who developed an instantaneous bond with our group. She gave us practical ideas that apply to our work world.


—Sam Allen, New York Life Insurance
I really appreciated your encouragement to think differently and to work on small changes to improve things. Your great sense of humor was a bonus!


—Jeff Gustafson, Project Manager, J.R. Engineering
Your keynote made our conference! Many felt your opening session was 'engaging, energizing, informative, inspiring and set the tone for the rest of the conference.' You were prepared, accommodating and easy to work with. We highly recommend Nancy Noonan to energize and engage audiences, while throwing in a little education that she can't seem to resist!


—Connie Deel, Chair, Professional Development Conference, Kansas City Professional Development Council
Click here to download the full letter.
This program was a WOW! It was so creative and inspiring, and your enthusiasm and active personality kept our attention the whole time! Now I can better utilize my own creative tools in all aspects of my life.


—Frank Guiliano, Mortgage Banker, Irwin Mortgage Corporation
Nancy's opening keynote challenged everyone to 'create their own masterpieces' by being bold and creative in their everyday work. Her excellent stage presence, coupled with a thoughtful and meaningful presentation, helped establish a framework for the rest of the conference.


—Tom Ross, Executive Director, Maryland Recreation and Parks Association
Our board was charged with bringing in a motivational speaker to give the members tools they could use in both their personal and professional lives. You met and exceeded the board's expectations! You are a very creative, animated and motivational speaker!


—Karen Breckenridge, Chapter Pres., Clinical Laboratory Management Association
Click here to download the full letter.
Your program will help me with problem solving in my law practice where creativity is needed! I really liked the creativity of your presentation itself and, you're right: Michelangelo is very inspiring!


—Russ Sindt, Attorney
Wow! What a great presentation that stimulated the visual sense, as well as the creative. You really made people sit up and think. Our members really liked your knowledge of not only art history, but also communication and our industry.


—Rhonda Scurek, Director of Programs, Hospitality Sales & Marketing Association International
Click here to download the full letter.
Thank you for sharing your expertise and passion for leadership with your program, "The Mastery of Leadership: Leading with Excellence in Challenging Times" to our Leadership Alumni. They appreciated that you presented the material in a fun, memorable way and valued that you involved them and gave them practical information they could use. Your stories were also inviting and engaging!
—Debbie Eisenhower, Staff Development/HR Coordinator, Johnson County Community College
Click here to download the full letter.
SUNA members walked away with tools and strategies to overcome stress, manage and grow with change and use creativity as a step towards success. Nancy's ability to interact with the audience was excellent!


—Carolyn North, President, Society of Urologic Nurses & Associates, Rocky Mountain
Click here to download the full letter.
I particularly liked how you made your presentation 'real' to the title business. Your alive energy created great interaction with our audience and I loved your encouragement to rediscover our own creativity.


—Gabriele Trujillo, Manager of Customer Care, Security Title Company
Your talk opened up new areas of thinking for me and will definitely help me integrate my left and right brains to be a better manager. Very inspirational!


—Gary Francis, Manager, Rocky Flats
Your energy is an inspiration to all! Your presentation was very thought provoking and gave me great ideas to get my staff to be inspired! I went back to work with a new outlook--to revitalize!


—Amy Sherman, President & CEO, West Chamber of Commerce
We sat spellbound as Nancy inspired us to create our own masterpieces. Her enthusiasm was contagious! The combination of her knowledge of art and her motivational approach made for a truly inspirational and enjoyable presentation.


—Ann Fontenot, Director, Meridian Company
Nancy really captivated a diverse crowd with amazing energy and creativity!

—Linda Barker, Director of Teaching & Learning, Colorado Education Association
Your program was so fascinating and inspiring -- no wonder we gave you a standing ovation!


—Future Business Leaders of America
What an excellent program and speaker--humor in addition to great content!


—Dixie Feld, Associate Broker, Coldwell Banker
Nancy's interactive keynote, 'Are Your Roots Showing?' for our annual Administrative Professionals Day event was rated by our attendees as very 'uplifiting, lively, engaging, humorous and motivational.' Nancy's expertise makes her an extraordinary speaker and a superb motivator; her humorous message inspired the audience to strive to be their very best.


—Mary Dyster, President Pikes Peak International Association of Administrative Professionals
Click here to download the full letter.
You made ARNA look good in selecting such an out-of-the-ordinary keynote speaker! Such unusual artistry and grace in your delivery. You gave us the gift of excitement about ourselves and the role we play in the lives of others!


—Joanne DeJanovich, Chief Staff Officer, Arkansas Nurses Association
Click here to download the full letter.
In today's challenging world, it is vital to stay inspired and connected to be at your Masterpiece level.

—Nancy Noonan

The Art of Mastery: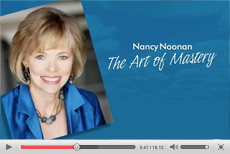 The Art of Masterful Networking:
You made them think, you made them laugh. And you made me look great! You're an association executive's dream speaker to work with.

—Joan Tezak,
Executive Director, ASAE /CO
Nancy Noonan's Publications