Based upon 25 years of studying Mastery, Nancy Noonan is sought out by corporations and associations to re-energize and re-focus their people. She helps them develop their own sense of Mastery to unleash their greatest potential, achieving personal and organizational excellence to produce extraordinary results.
(
Mastery
=
Knowledge + Skills + Excellence
)
Nancy's unique two-fold background brings an unparalleled richness to her programs. Her experience in sales, marketing and corporate development means she understands the real-world challenges people and organizations face today. Her years of teaching college art history have honed her ability to deliver great content while engaging even the most jaded of audience members!
Our participants talked about your keynote all three days! You electrified them and gave them much needed permission to go outside the box!
—Lynn Maedel, Chair, Clinical Laboratory Collaborative Conference
Guided by Mastery in her own life, Nancy earned the Master Teacher Award ("Oscar" of academia), as well as the Excellence Award from the Nat'l Institute for Staff and Organizational Development. Honored in Cambridge Who's Who and America's Outstanding Young Women, Nancy received her B.A. at the U. of Maryland and her M.A. at the U. of Kentucky. The author of The Art of Writing about Art (internationally published by Harcourt Brace) and How to Be a Super Achiever: 12 Strategies for Unleashing Your Success, she is also a contributing author to the Chicken Soup for the Soul book series. Her latest book Stepping Stones to Success, was co-authored with Deepak Chopra and Jack Canfield.
Nancy has led art tours to Europe and Egypt to study the works of the Great Masters. She is a member of the International Federation of Professional Speakers and National Speakers Association with two terms on the CO executive board.
Not only does Nancy talk about risk, she has taken her own share on stage: from tap dancing on Atlantic City's Steel Pier to modeling with the NYC Ford agency to going out for Miss Maryland (and by golly, she actually got the title!). Today Nancy takes to the stage as a professional speaker, author, workshop/retreat leader, facilitator and coach. To make sure her programs are both informative and entertaining, she draws on her playful nature, Irish heritage of natural storytellers and humorists, as well as her own experience in Improv.
Nancy lives with her husband, Richard, in Colorado where they raised their two sons, Gavin and Collin. She paints her own life with numerous colors, including gourmet cooking, tent camping, hiking, snowshoeing, fly fishing, reading, visiting art museums and traveling. Nancy is known to occasionally still don a wicked pair of tap shoes!
CLICK HERE
To Book Nancy For Your Next DYNAMIC And EFFECTIVE Conference, Workshop, Facilitation, Retreat Or Consultation.

Print this page
In today's challenging world, it is vital to stay inspired and connected to be at your Masterpiece level.

—Nancy Noonan

The Art of Mastery: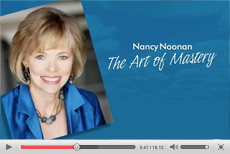 The Art of Masterful Networking:
You made them think, you made them laugh. And you made me look great! You're an association executive's dream speaker to work with.

—Joan Tezak,
Executive Director, ASAE /CO
Nancy Noonan's Publications