THE ART OF MASTERY PROGRAMS
1.
The Art of Mastery
(Signature Keynote):
Staying Inspired in Challenging Times
Specific for Nurses/Healthcare:
The Art of Mastery: Nursing Mastery in a Challenging World
The Art of Mastery: Healthcare Mastery in a Challenging World
2.
The Art of Masterful Networking
3.
The Art of Leadership Mastery
4.
The Art of Empowerment:
Are Your Roots Showing?
Mastery Keynote for Women

Do your people need to stay inspired to continually and happily master their work and lives? In her one-of-a-kind most requested signature keynote, Nancy reveals the powerful connections between the success strategies of the Master Artists and successful people in the workplace.
Overcome Obstacles, Burnout and Stress
Spark Creativity and Innovation
Embrace Change and Take Risks to...
Enhance Morale, Resilience and Success!
Read More About Nancy's Signature Conference Keynote.

Tired of coming back from business gatherings or conferences where inconsequential conversations didn't amount to squat? Whether you love it or hate it, were born with the gift of gab—or not—networking know-how is crucial to success in our constantly expanding work world. Learn networking skills that will make you memorable, benefit your business or organization (both internally and externally), make you a magnet for attracting the best people to your circles and affect your bottom line.
Read More About Nancy's Networking Keynotes, Trainings and Webinars.

In this dynamic program, Nancy discloses the elements of Mastery in today's top-notch leadership and demonstrates how excellent leadership is an art! Leaders learn the keys to the most successful leadership including the importance of attitude; values clarification; communication skills; understanding their own leadership and behavioral styles and the styles of those they lead; and how to inspire others to unleash their own Mastery. Grow masterful leaders who create excellent results.
Read More About Nancy's Leadership Programs.

Nancy Noonan's keynote Are Your Roots Showing. is very funny, yet filled with poignant stories and ready-to-implement ideas. This lively, interactive program is built on the premise that in order to flourish in Mastery and be empowered in our lives and work, we must stand firmly rooted in our own authenticity, our own voice and our own truth.
Read More About Nancy's Empowerment Keynote.
NANCY NOONAN'S SERVICES
Nancy Noonan Also Provides The Following Services:
COACHING
For individuals who want to get to the next level, be more effective in communication or presentation skills
CONSULTING
For organizations that want to garner excellence as a success strategy
FACILITATING
For groups that want to have tough conversations together to move them ahead and communicate and operate at the masterpiece level
DISC®
Nancy is a certified facilitator and coach in the DISC® and Values Behavioral Assessments. Through DISC, Nancy helps increase the efficacy and Mastery of leadership, teamwork and communication skills so that people and teams interact with more understanding of each other's different styles and ways of behaving, resulting in less tension and conflict and remarkable collaborative results. Nancy runs online DISC assessments and works with individuals and organizations to interpret and incorporate the results.
Learning about the different types of people with the DISC behavioral information will really help me communicate better with types different from myself.

—Karen Van Sickle, Medical Transcriber, Chico State University
CLICK HERE
To Book Nancy For Your Next DYNAMIC And EFFECTIVE Conference, Workshop, Facilitation, Retreat Or Consultation.

Print this page
In today's challenging world, it is vital to stay inspired and connected to be at your Masterpiece level.

—Nancy Noonan

The Art of Mastery: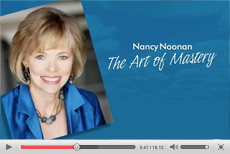 The Art of Masterful Networking:
You made them think, you made them laugh. And you made me look great! You're an association executive's dream speaker to work with.

—Joan Tezak,
Executive Director, ASAE /CO
Nancy Noonan's Publications