NANCY'S INTRODUCTORY LETTER


Dear Meeting Planner:
My goal is to ensure that your event is an Art of Mastery. I am told I am very easy to work with and I go out of my way to make things go as smoothly as possible for you and your organization.
The information provided here will tell you about me, my programs and my services.
If you need information that is not here, please contact me and I will provide it as soon as possible. At that time we can also discuss fee.
Once we have contracted for a program, please fill out the Pre-Program Questionnaire and email it to me.
Also visit the Set-up and A/V Information Room section; this information is just one of the pieces to ensure that things go off without a hitch.
I look forward to helping you turn your event into a Masterpiece.
Creatively yours,

Nancy Noonan
In today's challenging world, it is vital to stay inspired and connected to be at your Masterpiece level.

—Nancy Noonan

The Art of Mastery: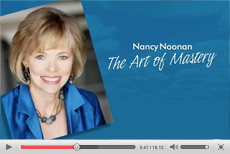 The Art of Masterful Networking:
You made them think, you made them laugh. And you made me look great! You're an association executive's dream speaker to work with.

—Joan Tezak,
Executive Director, ASAE /CO
Nancy Noonan's Publications