By unleashing Nancy Noonan's unique Mastery Strategies, your people can continually live and work at their most excellent Masterpiece levels and feel better while doing it! They will happily remain with your organization and stay inspired, engaged and enthused to:
Overcome Obstacles, Burnout and Stress
Spark Creativity and Innovation
Embrace Change and Take Risks to...
Enhance Morale, Resilience and Success!
Through her entertaining, thought-provoking and customized keynotes and workshops for healthcare, business, government and education clients, author and keynote speaker Nancy Noonan re-ignites her audiences!
In her one-of-a-kind motivating signature keynote, The Art of Mastery, Nancy reveals the easily implementable powerful connections between the Success Strategies of the Master Artists and successful people in the workplace.

Find out more about Nancy's keynotes and workshops on: Mastery, Networking, Leadership and Empowerment.

"WHAT NANCY NOONAN'S CLIENTS SAY"
Nancy had our audience laughing, crying, applauding and truly feeling inspired by the end of her relevant, inspirational and motivating 'The Art of Mastery' keynote. I cannot say enough about how pleased I was with Nancy; she was a truly class act and a great way to kick off our Annual Event.


—Brian Calkins, Program Director, The Florida Association of Pediatric Tumor Programs, Inc.
'Absolutely Outstanding!' was how our members described your three 'Bringing in the Business Networking Skills' workshops. Your sincere desire to help attendees become better at Networking and Communicating with Purpose was enhanced by your friendly, upbeat nature...and why they found you to be a 'fantastic' speaker.
—Wess Galyon, Executive Director, Wichita Area Builders Association
I took a leap of faith in contracting with Nancy Noonan as a keynote speaker because I had no prior experience in hearing her speak. That was one leap I will never regret. Nancy interacted with our membership prior to her 'Art of Mastery' presentation and was able to get a good feel for what we needed. Our membership had recently been faced with many challenges. They found Nancy to be very uplifting, energizing, articulate and real, and her content thought-provoking, motivating and very useful. I strongly recommend Nancy, you won't be disappointed.
—Lori McKee, President, Ohio Bursars Association
Nancy's presentation was great! Great stories and connections, perfect pace, and she kept all participants involved. We would definitely love more!
—Bruce York, Division Chief, Office of Defects Investigation, DOT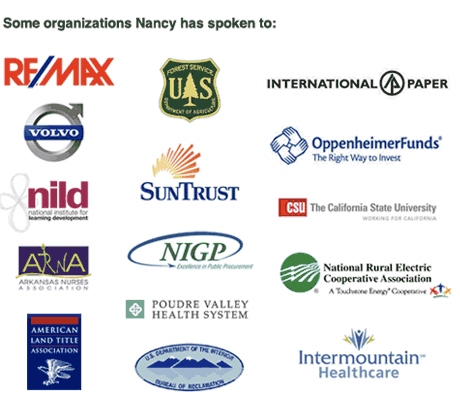 Print this page
In today's challenging world, it is vital to stay inspired and connected to be at your Masterpiece level.

—Nancy Noonan

The Art of Mastery: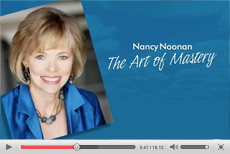 The Art of Masterful Networking:
You made them think, you made them laugh. And you made me look great! You're an association executive's dream speaker to work with.

—Joan Tezak,
Executive Director, ASAE /CO
Nancy Noonan's Publications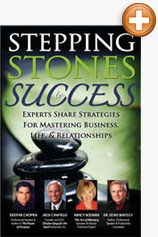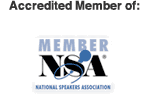 Sign up for Nancy's eNewsletter